WELCOME to the most unfluential pair of websites in the history of paleontology and prehistoric animal management!

The Center for Cretaceous Studies
and
CRETACEOUSLAND!

the ONLY places on Earth researching and studying very real, very breathing, and very carnivorish-type LIVE Dinosaurs. You know, the ones with the large, sharp, teeth? Yeah, them.

Take a few minutes of your valuable life on this planet and peruse... nay, look over our two sites, and we think you'll agree with us when you say, "Why the hell did I waste my time here?!?"

TWO OPERATIONS, ONE LOCATION...
AND A HOST OF NEARBY HOSPITALS ON SPEED DIAL
There are two distinct divisions here at The Center for Cretaceous Studies. Let's take a quick look at them before you fall asleep: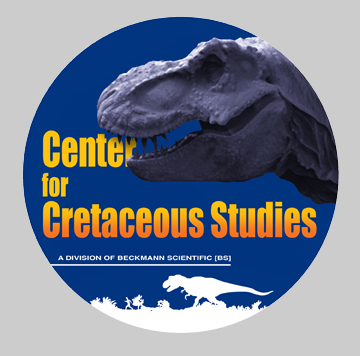 The CENTER for CRETACEOUS STUDIES (tC4CS): is our unsafe, people-unfriendly, Super Duper Ultra Double Top Secret Dinosaur Research Facility, aka: tC4CS World Headquarters. Complete with 4 floors of lawyers, a 22nd Century Visitors Center, and much, much, more... like, indoor plumbing and the indoor home of 140+ different species of carnivorous Cretaceous Period Dinosaurs (hence the "unsafe" and "people-unfriendly" description). Here you can check out live Dinosaur research as it happens!

During the winter months of Earth's northern hemisphere, we keep our theropods housed in huge Indoor Paddocks [IPs] which are available for public viewing, tours, and evacuation (aka: "DinoLunchtime"). Think of an IP as a very, very, VERY, large indoor zoo cage.

THE DINORESIDENTS ARE CURRENTLY HERE!


CRETACEOUSLAND!: is a complete hands-on experience for our feeders, er, visitors. This is our outdoor Dinosaur Theme Park and Reserve. DinoResidents are outdoors during the warm summer months of the northern hemisphere, staying inside Habitats (HABs) of natural surroundings. Well, kind of stay here -- some of the time. Suffice to say the Perimeter Fence Repair Team has not gone home since 1976.

CRETACEOUSLAND! is also home to several rides and exhibits with enough ambulances parked nearby to handle almost any 'incident' that arises. Ewww.. except that one time in 1997. Don't ask.



Since we're on the subject, let's not get all lovey-dovey, ooey-gooey here. The main purpose for this Welcome Page is to allow some time for your lunch to settle and to make sure the kids are out of the room before venturing further. Working with live Dinosaurs is not pretty. Not that our sites aren't kid-friendly; our Dinosaurs really do love kids! Just.... you know, not in a friendly way.

If you feel safe sitting there at your computer, we've put a few photos on the following page to whet your appetite.
Note: We said "whet your appetite" not "wet your pants".
That'll happen when you get here.
Click on PHOTOS below or at the top of this page.

Got questions? Contact us at: CretaceouStudies@aol.com or CretaceouStudies@yahoo.com or CretaceouStudies@gmail.com
and we'll be sure to ignore you!

Thanks for reading! We hope you enjoy wasting your time on BOTH of our sites and we look forward to seeing you here in person at The Center very soon! (Can you arrive near lunchtime?)



CLICK HERE To Visit Cretaceousland! [animal reserve/theme park]

CLICK HERE To Visit The Center for Cretaceous Studies [research]



To Donate Money (LOTS OF IT), Please Send A Check Or Money Order
(made out to CASH) To: CretaceouStudies@aol.com or CretaceouStudies@yahoo.com or CretaceouStudies@gmail.com